Mactores, a provider of end-to-end data platform transformation solutions, announced today that it had achieved Amazon Web Services (AWS) Migration Competency status. This designation recognizes that Mactores provides deep expertise to help accelerate the customer cloud adoption journey by providing business expertise, migration and modernization tools, education, and customer support in the form of professional services.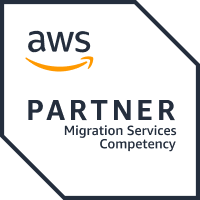 Achieving the
AWS Migration Competency
differentiates Mactores as an AWS Partner that provides specialized demonstrated technical proficiency, proven customer success with a specific focus on discovery planning, and recommendations about the large customer deployments from on-premises to appropriate cloud services. This includes migrations from traditional infrastructure-based systems and licensed databases to modern serverless architecture and AWS-managed open source databases. To receive the designation, AWS Partners must possess deep AWS expertise and deliver solutions seamlessly on AWS.
"For too long, cloud transformations performed by a traditional approach had been a painful process for customers. They spend too much time researching solutions, validating concepts, planning deployments, and locking themselves to long-term contracts, but are never sure they are getting the best expertise and designs," said Bal Heroor, CEO of Mactores. "
The AWS Migration Competency validates Mactores Migration as Service (MaaS), a comprehensive, proven cloud migration program based on AWS Migration Acceleration Program principles. Enterprise migrations can be complex and time-consuming. Mactores MaaS can help you accelerate the cloud migration journey with an automated approach and outcome-driven methodology.
Enterprise Applications: SAP S4 HANA, BW, BOBJ, FIORI, Hybris, Oracle EBS, Oracle P6 (Greenfield and Brownfield), Atlassian, Adobe.
Databases: Oracle, MSSQL, IBM DB2 to Aurora
Custom Applications: .NET, Java, and other open-source technologies-based platforms.
Mactores offers automated discovery and assessment tools for cloud readiness to create the migration strategy. Strategy results in a detailed design document that includes the Landing zone, Technical Architecture based on AWS's well-architected principles, and the total cost of ownership. Mactores performs customer deployments using automated tools such as AWS CloudFormation, Terraform, and Ansible. Mactores manages the workloads through SRE principles.