Why
Enterprise Data Lake?
With more data coming from multiple sources, it can be challenging to know when and how to leverage your data, convert the data into meaningful insights, harness the power of machine learning, and take advantage of predictive and prescriptive analytics, all of which can lead to significant actionable insights.
Data visibility is critical to any successful digital transformation and is the key to capturing market intelligence and insights to grow your business. Your enterprise should be focused on enabling team members to collaborate and dissect data leading to better, faster, and stronger business decisions.
At Mactores, we bring more than 10 years of experience and best practices to build the ideal data lake architecture for your company's use cases and compliance requirements, helping you answer questions like
How do I use my various data sources, which I know are full of valuable insights?
What does success even look like within a data-driven decision culture?
How can I securely share data within the organization to make smart business decisions?
Modernizing your legacy data platforms with a data lake transformation complements your data warehouse solution to provide advanced analytics capabilities. It also means you will be able to access various types of data, including unstructured data in the form of images, communications, reviews and ratings, and web behavioral data.
The unstructured data in your data lake can also be securely combined with the more traditional or structured data, which is captured in traditional data warehouses and databases.
Don't be hampered by poor data reliability and scalability or blocked data projects, we can help accelerate your Hadoop migration to Amazon EMR efficiently and effectively.
We understand your data lake is valuable only if it provides actionable insights. With Mactores enterprise data lake, you can achieve business insights to stay ahead of your competitors.
70%
improvement in data efficiencies
40%
gain in speed with 3x more dimensionality to data
10x
faster team's decision-making while meeting high governance and compliance requirements
What does


Mactores Enterprise Data Lake Practice deliver?

The Mactores enterprise data lake solution synthesizes all your raw, unstructured and structured data for real-time data visibility and advanced analytics.

We can deliver modern data platform transformations that support AI/ML using data mesh and DataOps that are equipped to scale while meeting all security, data governance, and compliance requirements.

Our advanced data lake architecture empowers your company decision makers to make valuable data-driven decisions. Our solutions implement data ingestion from multiple sources, transform the data and make it usable through your preferred visualization tools, while providing secure access to everyone.

With our Enterprise Data Lake solutions, we take a holistic approach to delivering an effective and powerful data platform that:
Leverages the full power of a scale-out architecture with an actionable, scalable data lake
Improves data visibility, reliability and quality to reduce time-to-insight
Fosters a data-driven business through self-service data discovery and preparation
Safeguards sensitive data and ensures regulatory compliance
Delivers real-time data stream processing and transformation to support fast data use cases
Solves business problems with highly-optimized data analytics and visualization, and high security and compliance challenges
Yields higher efficiency while optimizing the processes that reduce operating costs and improve the customer's revenue opportunities
Provides real-time data visibility for line-of-business decisions
Gives secure access to all data sources via efficient data governance
Uses a data mesh to enable access to enterprise analytics for each team member with high-security/compliance requirements
Offers data pipeline scalability and performance
Increase your operational efficiencies, improve valuable business insights and create a customer 360 by harnessing more data from more sources with our enterprise data lake solutions.
The Mactores
Process
Mactores takes a holistic approach, using assessment, migration, automation, and data quality tools to bring modern solutions to your digital transformation needs.
We focus on building end-to-end data pipelines that deliver highly-optimized data analytics and visualizations, while also resolving high security and compliance challenges. We promise higher efficiency and process optimization that reduce operating costs and improve your revenue opportunities.
Our comprehensive three-step process to building an actionable, scalable data like adheres to the following steps:
1- Discovery Automation:
We accelerate the discovery process with automated tools that collect information from your Hadoop systems, connected data sources and tools. (Applicable only when a customer has an existing data lake).
2- Future State Assessment:
We conduct interviews to determine the current data analytics stack, available source systems, and data variety to define the modernization. (Applicable only when a customer does not have a data lake).
3- GAP:
We analyze your current on-premise/on cloud Hadoop-based data lakes to secure the modern data platform for your business.
4- End State:
After 2-8 weeks of discovery, requirement gathering, and stakeholder interviews, we provide a detailed data lake architecture and systems design by defining security, scalability, observability and resilience for the new data platform.
5- Road Map:
To achieve consistent and fast delivery, we define your migration/modernization path forward with short-term, medium-term, long-term goals to deliver an iterative process (SCRUM Agile).
6- TCO:
We provide a comprehensive analysis of your total cost of ownership (TCO) and return on investment (ROI) for your data lakes on cloud.
1- Strategy:
We provide a comprehensive migration strategy to cover modern data analytics use cases for your business, business outcomes, migration approach and cutover plan.
2- Execution:
We collaborate with you to define how best to take ownership to migrate your data lake (batch and real-time) within an Agile process.
3- Migrate:
Our team performs data quality, data lineage, and integration testing to achieve a rapid, seamless migration from Hadoop systems to your modern data lake.
4- Migration Accelerators:
Using our advanced conversion tools, we reduce ETL conversion time from 4-6 months to 2-4 weeks. Our accelerators for data migration, data quality and visualization platform migration result in a migration that is significantly faster than current standards.
1- Strategy:
Modernization starts with a comprehensive strategy to cover modern data analytics use cases for your business, business outcomes, adoption strategy and implementation plan.
2- Design:
Our internal/external SMEs collaborate with your teams to design scalable, secure, compliant, and modernized data platforms to support your business needs.
3- Build:
Led by the Mactores PM working with cross functional teams, including security, compliance, application, and infrastructure to deliver the build, test, release in incremental sprints.
4- Automate:
Once the data lake is built, Mactores automates additional data ingestions, transformations, and operations that yield better efficiency.
The Customer
Challenge
Replacing your legacy data platforms with an enterprise data lake solution will create the robust foundation for data science and advanced analytics your company needs to leverage ML/AI, to manage operations more effectively with real-time data access, and to identify new business insights and customer needs.
By modifying your process so your data scales with you, our customers:
Eliminate barriers for data teams with zero risk, cost, or lost time
Improve data visibility, reliability and quality
Simplify with a data mesh leading to better insights
Promote faster product development and new revenue
Safeguard sensitive data and ensure regulatory compliance
Business Use Cases
Supply Chain Network Optimization
Mactores Accelerators
The Aedeon Data Lake 360° Accelerator is a holistic approach to an actionable and scalable data platform vastly improving data visibility, reliability and quality to reduce time-to-insights. Aedeon Accelerator enables line of business owners to make data-driven business decisions through self-service data discovery dashboards. Aedeon safeguards sensitive data and provides all security and compliance requirements.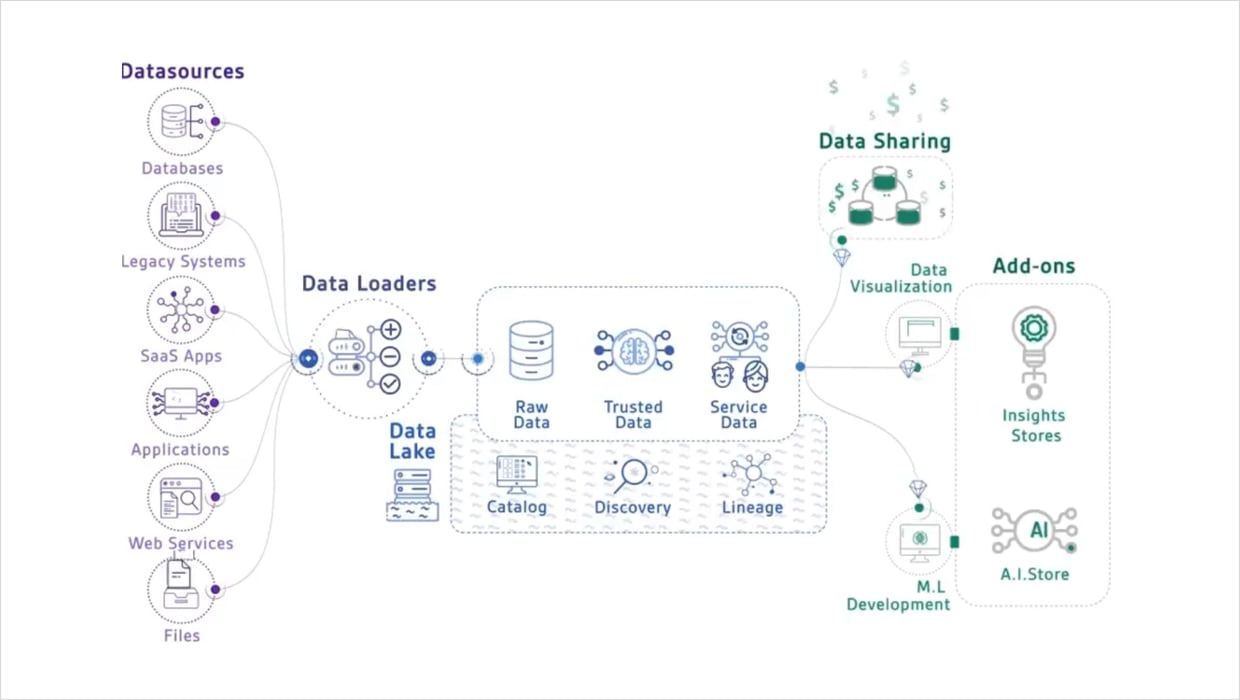 AWS Validated
Competencies & Service Deliveries
Discover advice, support, tips, and a no-nonsense approach to problem solving.