Your data is growing exponentially and coming from new and diverse sources. Leveraging data for competitive advantage demands that people with varied skill sets and multiple applications access it easily. But there are challenges to getting there, with today's more demanding workloads bumping against the limitations of on-premises extract, transform, and load (ETL) solutions.
On-premises infrastructures can't scale to handle these workloads and rely on complex ETL tools to install, manage, and scale. Costs for advanced features like a centralized data catalog and multiple licenses for handling streaming data add up, too. And on-premises jobs written in traditional ETL tools are vendor-specific, locking you in and limiting the variety of data types you can handle.
Why a serverless, cloud-based platform makes sense
Moving your data lake to the cloud with Mactores ETL Migration Accelerator for Amazon EMR, AWS Glue, and Apache Spark makes all of those problems history. The solution accelerates your data pipelines and simplifies adding pipelines from multiple sources, unlocking the massive value of your data.
The Mactores ETL Migration Accelerator is built on the Mactores Aedeon Data Lake framework combined with other frameworks, including Apache Spark and AWS Glue. AWS Glue is the foundation for a
modern data platform
, enabling data integration for batch and real-time applications. The solution delivers cost-effective performance, a centralized catalog and governance, and tools for diverse skill sets.
The core Aedeon Data Lake framework also supports a configurable ETL system; as you add new types of data sets, Mactores can quickly configure the same ETL to support these new data sets without rewriting the code—or rewriting the pipeline code. Moving to a serverless, cloud-based platform also makes it possible to observe how your data sets are formed (your data pipeline's data lineage from the raw source data to the final, certified data set), data quality, and stability.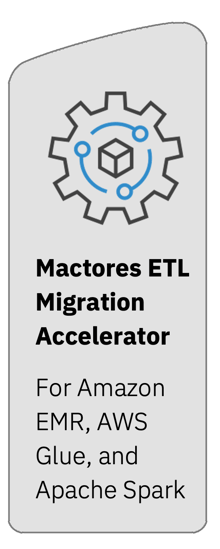 Automation accelerates modernization
During the assessment phase of migration, Mactores digs into the entire data set construction and verifies data quality. Once your data quality is verified, Mactores works with you to meet performance requirements and eliminate backlogs and backfilling. Plus, with Aedeon Data Lake's added observability, you can count on timely remediation and alerts.
The Mactores ETL Migration Accelerator uses automation for faster assessment, migration, and modernization of your data platform. Offered on Apache Spark or Amazon EMR as a fully managed solution and service, Aedeon Data Lake relies on AWS Glue for data prep and data pipelines, converting about 70% of your ETL into AWS Glue automatically. For legacy platforms—even SQL scripts or manually written ETL—Mactores can convert your data to AWS Glue and Apache Spark in about a week instead of months or years.
In fact, Mactores ETL Migration Accelerator helped one customer reduce development time by 5x—from 10 months to two months—and ETL costs by 80%, from $1 million to less than $200,000.
Access AWS ETL modernization funds
Faster migration to the cloud means faster access to all the benefits of a modern data platform. Even better, with the AWS ETL modernization program, you can access funding and credits to reduce your professional services and automation costs. Learn more about Mactores ETL Migration Accelerator.
Let's talk
.