Mactores Cognition, Inc., a provider of end-to-end data platform transformation solutions on Amazon Web Services (AWS), has received the
AWS Data & Analytics Competency status
. This designation recognizes that Mactores has demonstrated technical proficiency and proven customer success in big data-related solutions.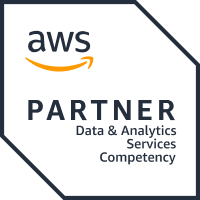 The AWS Data & Analytics Competency differentiates Mactores as an AWS Advanced Partner Network (APN) member that has built solutions that help organizations solve their data challenges, focused on delivering mission-critical business insights. Services include Data Lakes, Data Warehouses, Serverless ETL Automation, Data Center Migrations, and Data Generation for Machine Learning solutions. Attaining the AWS Data & Analytics Competency demonstrates to AWS customers that Mactores has validated expertise in Big Data and Analytics experience on AWS.
AWS enables scalable, flexible, and cost-effective solutions from startups to global enterprises. To support these solutions' seamless integration and deployment, AWS established the AWS Partner Competency Program to help customers identify Consulting and Technology APN Partners with deep industry experience and expertise.
"The AWS Data & Analytics Competency is foundational in supporting our customer's journey for all their data platform challenges. Our customers leverage our DevOps, Data & Analytics, and Machine Learning capabilities to transform their entire data platform end-to-end," said Bal Heroor, CEO.
Mactores offers various Data & Analytics expertise, including Amazon EMR, Amazon Redshift, Amazon Kinesis, Amazon Athena, AWS Glue, and AWS Lake Formation, for advanced data and workload analytics for multiple industries.