You've already chosen Apache Hadoop because it's one of the best frameworks for reliable, scalable, distributed computing. But there are many challenges that come with operating a Hadoop framework in on-premises data lakes. Scalability is one. Coupled storage and compute functions are another, as adding hardware to handle heavy workloads is expensive. And, because Hadoop isn't a managed service, it demands the time and attention of an extensive team monitoring the infrastructure and workloads. That's time better spent on meeting business goals and innovation. That's why Amazon EMR is an attractive option for Hadoop deployments.
Modernization starts with decoupling storage and compute
Amazon EMR decouples storage and computes systems, offering a seamless data lake environment. It lets you run big data applications and petabyte-scale data analytics faster, at less than half the cost of on-premises solutions. But migrating to Amazon EMR has its challenges, too.
The Mactores Amazon EMR Accelerator eliminates those challenges. It speeds your migration to the cloud so you can build applications using the latest open-source frameworks. And it offers options to run on customized Amazon EC2 clusters, Amazon EKS, AWS Outposts, or Amazon EMR Serverless.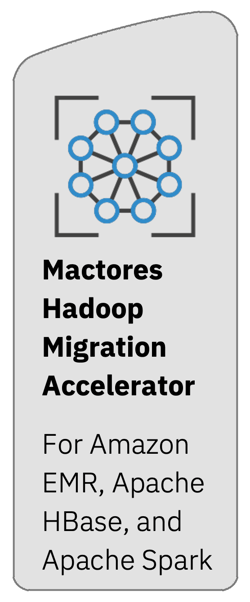 The Amazon EMR Accelerator is built on the Mactores Aedeon Data Lake framework combined with other frameworks—including Apache Spark, Hive, and Presto—and Mactores expert data science and engineering services. The platform employs automation for rapid assessment, migration, and modernization of your Hadoop platform and is offered as a fully managed solution and service.
Faster results and reduced costs
Mactores helped one customer migrate its entire database from Cloudera Hortonworks—about 2 PB—to Amazon EMR. That made it possible to store the data on Amazon S3 while retaining Apache HBase with separate storage and compute functions. As a result, the company could scale to serve millions of users every day. Even better, the migration was completed in just 90 days while costs were reduced by about 76%, from $2.7 million to $700,000.
The Mactores EMR Accelerator automatically discovered all the configurations related to workload dependencies in the Cloudera, Hortonworks, or MapR systems and mapped the configurations to Amazon EMR, supporting scalability with full automation. With the migration to Amazon EMR complete, the customer's data transformation is now automated, and the time required to transform data has been cut by 80%.
Also, check our public case study with
Flipboard and AWS
with Mactores Hadoop Accelerator.
Access AWS EMR modernization funds
Faster migration to the Amazon EMR means faster access to all the benefits of a
modern data platform
. With the AWS EMR modernization program, you can also access funding and credits to reduce your professional services and automation costs. Learn more about the Mactores EMR Migration Accelerator.